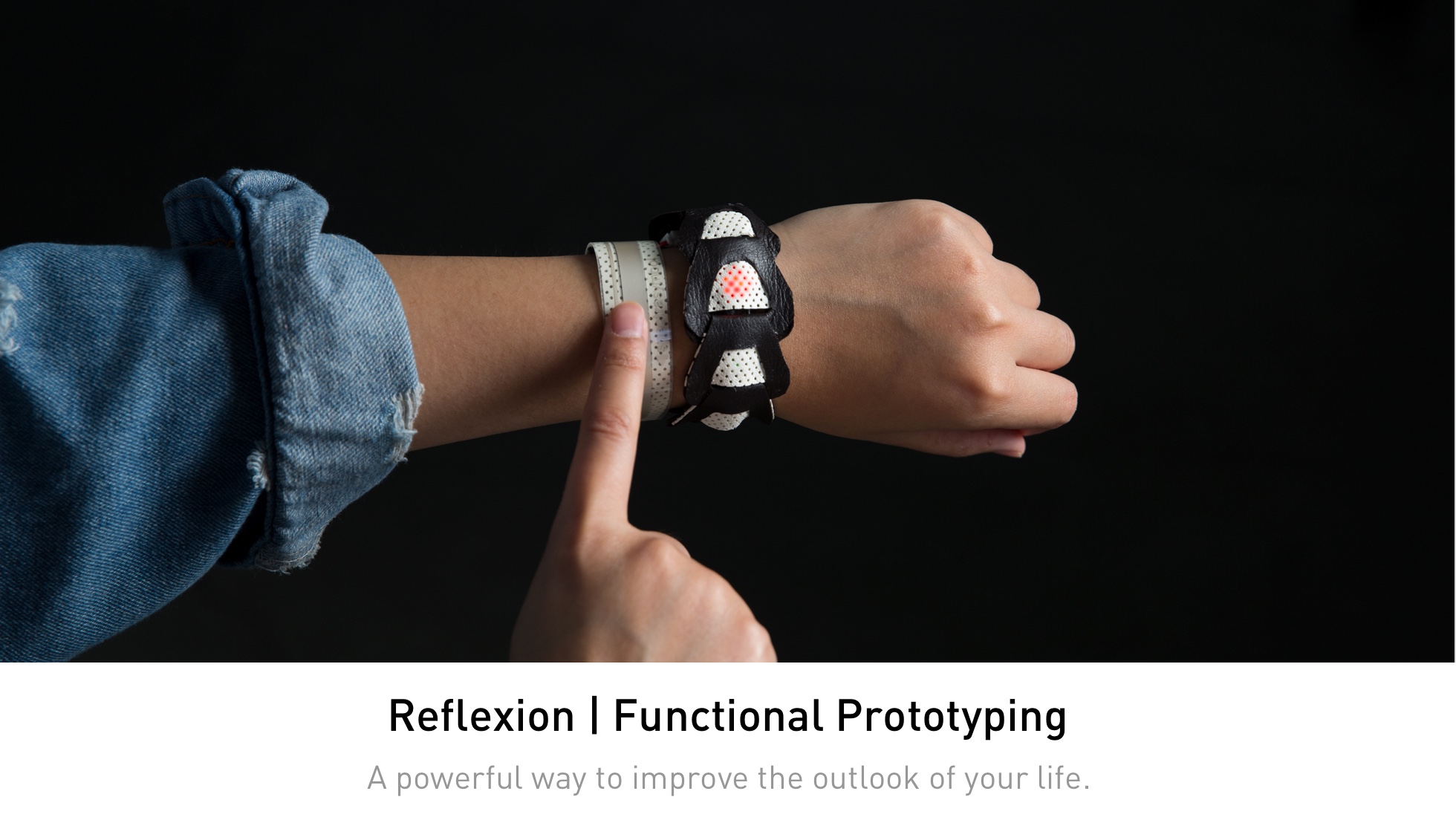 Reflexion
My outlook on life has vastly improved for the past five years through internal self-reflection. There is a way to utilize the advanced technology to bring the benefits of self-reflection to more people. With this concept, I designed the Reflexion system. It helps users to develop good habits by encouraging their own self-reflection.
I did five rounds of prototyping to find the best form of interaction for users to carry out their self-reflections. In addition, I made a functional prototype and asked users to wear it throughout the day. I was able to find a new opportunity in this angle different from previous projects: design decisions were mainly driven by prototyping.
Particle Photon, IFTTT, Google Docs for the functional prototype
After Effects, Illustrator, SolidWorks, KeyShot for the microinteraction and project video
User interviews
What is self-reflection?
In the beginning, I interviewed my friends and classmates to get a sense of how people think about self-reflection.
1st round of Prototyping
Self-reflecting through 3 media forms
To find out how self-reflection can influence people and which form of self-reflection people preferred, I asked seven participants who didn't have any self-reflection experience before to make self-reflections for three days. Their objective each day was to self-reflect at various times and use different forms of media including text, drawing, or audio in order to express their thoughts.
Drawing was the most relaxing way!
When I spoke to the participants, I found that drawing was the most relaxing way to make a self-reflection. Five out of seven participants tended to include themselves within the picture, allowing them to express their feelings directly.
"It is beneficial!"
I did some interviews after the experiment to find out how they felt about self-reflection exercise after trying it. I was curious to know their preferred method of inputting their forms and frequency (1, 2, or 3 times per day).
Overall, all seven participants showed:
They benefitted a lot from daily reflection; including, self-awareness, finding work and life balance, and encouraging self-motivation.
Text was the easiest way for expression, drawing helped to relieve stress, and audio recordings was the most convenient way.
They preferred to reflect twice a day; in the morning and evening.
2nd roind of Prototyping
Using body movement to express your feelings
Self-reflection is closely connected physically and mentally to the body. in this session, I offered a chance for participants to talk to their body. I asked the participants to do three things: first, listen to their bodies; second, to use their posture or body movement to express their current feelings; third, act the opposite posture or body movement.
"I feel much closer to my body!"
Both participants commonly used body movement or bad posturing to express their stress affecting them from their lives. When corrected of their posture, the participants were made aware of their habits and corrected them immediately, allowing for more positive thinking and motivation.
3rd round of Prototyping
Using keywords to express your reflection
In the first round of prototyping, participants said text reflection helped them verbalize their thoughts. The cost of it is that it was also time-consuming. Due to this, I decided to use keywords as a medium to engage their self-reflection. I asked the participants to make self-reflections three times by using keywords during the day to make their overall day's refection and review these keywords at the end of the day.
"This is the simplest way to go through the day!"
During the experiment, every participant can recall what they went through during the day and do a completed self-reflection based on the three keywords. Using keywords drastically cuts down on time and makes self-reflection easier.
4th round of Prototyping
Trying on a sketchy reflection band
I used sticky cloth pastes to create a band of velcro lined with three kinds of stickers representing 3 types of input people identified with commonly – emojis, colors (users would define the meaning of each color) and a blank variable (users would be able to write a keyword on each plank sticker). I wanted to test it out, and see which kind of data they wanted to put on their band and wear throughout the day. Each participant also tried the product out on their wrist, ankle, and arm to find which best suited them.
Color sticker yielded more positive results
I tested the band on 5 participants and the results were consistent each time. Everyone chose colors as an indication of their self-reflection and they chose to place it on their wrist.
5th round of Prototyping
Building the electronics
Photon, LED lights, swiping strip, and fabric was used to make a functional prototype. Photon was used to connect IFTTT and Google docs. In additions, users' daily self-reflection data can be sent to the Google doc. Users could check the data and make a self-reflection on it at the end of the day.
Wearing the prototype throughout the day
I asked three users to wear the band to demonstrate throughout the week day. They liked how simple the interaction was and tended to use it in monitor their feelings or behaviors. However, the whole day self-reflection data diagram was messy and they didn't know how to utilize it.
Pivot
Combining self-reflection with goal-setting and behavior-monitoring helped people develop good habits based on the last prototype feedback.
Final Design
The reflection system
Based on the feedback I got from the prototyping, I developed a high-fidelity mock-up and designed a reflection system. Below are a system diagram which addresses how the system works and a use case video to show the usage scenario.
Making a quick self-reflection through selecting a color
Checking their habit data and making a reflection to conclude the day